Ahhhhh!!! Massage Therapy! There's nothing quite like a luxurious therapeutic massage to melt away stress and anxiety, restore vigor and put a smile on your face. And there's no better place in San Ramon to experience the amazing health benefits of massage therapy than at WellQuest Wellness Centers.
Here are just a few of the benefits you'll enjoy from your massage therapy sessions at WellQuest...
| | |
| --- | --- |
| | Enhanced general relaxation |
| | Reduced muscular tension |
| | Reduced anxiety |
| | Better sleep |
| | Better circulation |
| | Improved immune function |
| | A greater sense of well-being |
| | Relief from muscular aches and pains |
Choose from these extraordinary massage styles and services
This light to medium touch massage is a calming, relaxation massage focused on promoting healthy breathing, releasing tension in muscles, improving the circulation of blood and lymphatic fluid and increasing range of motion. Enjoy long flowing strokes that promote deep peace, relaxation and well-being.
| | |
| --- | --- |
| | Experience slow, deep movements that access and sooth deeper layers of muscles and connective tissues bringing relief to chronic tension, knots, and general tightness. Deep tissue massage also improves circulation and lymph flow to transport toxins out of the body . This healing massage is customized to your specific needs and can, over time, normalize muscle function. |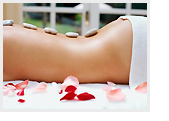 Indulge in the most remarkable, relaxing, and invigorating massage therapy known to man. Hot stone therapy blends nature and ancient healing wisdom with modern massage techniques to create a one-of-a-kind massage experience.
Heated basalt stones applied to the body produce an incomparable sense of relaxation. Using the stones as an extension of her hands, your therapist can work muscle tissues more deeply and thoroughly than she could otherwise, producing a lasting sense of deep relaxation, release of tension, health, vigor, and profound well-being. You simply must experience it!

For the mother-to be, prenatal massage employs special techniques to calm the nervous system, increase oxygen and nutrients to the womb, and relieve discomfort associated with pregnancy such as headaches, sinus congestion, backaches, leg cramps, swollen ankles, and sciatic pain. Research shows that massage during pregnancy actually reduces stress hormones in the body.